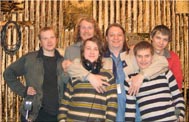 Pigmey`s Universal Project —«P.U.P.» is the main musical project of the 'N'-studio. 'P.U.P.' is the chief experimental practical group, which staff usually changes from album to album. The reason is the author's offered material demands many sided performing approach:more..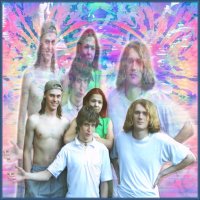 «Torpeda» group created for embodiment of Ekaterina Milyaeva`s musical ideas. Bright individualism, ambitions, many-sided talent allowed (passing the category 'experiment') to step in a rank of the basic project. It's the first unprecedented professional project in the South Ural. The music is calculated on youth, where the author (both music & texts) is not the executor and musicians, who had passed the rigid castings, were picked by genre principle of 'affinity' to the empathized material.
more..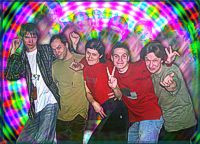 'Cara-M-bol' - 'the first artificial satellite' of the 'N'-studio. It's a group with strongly pronounced 'female' beginning. Author & leader of the project - Mary Kappa. Her vocal is very expressive, bright, original & dynamic. Temperament, virtuosity & inimitable charm..
more..
STUDIO: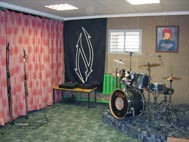 «N»-studio —the main creative laboratory & experimental base, where author's projects created. Here we can solve the basic practical questions of preparation, embodiment & realization of all musical ideas. We try to use the best musical palette & involve all available modern, professional & technical musical arsenal.